Death Taxi 3000
Update v0.3 NOW UP! Big DOS changes
---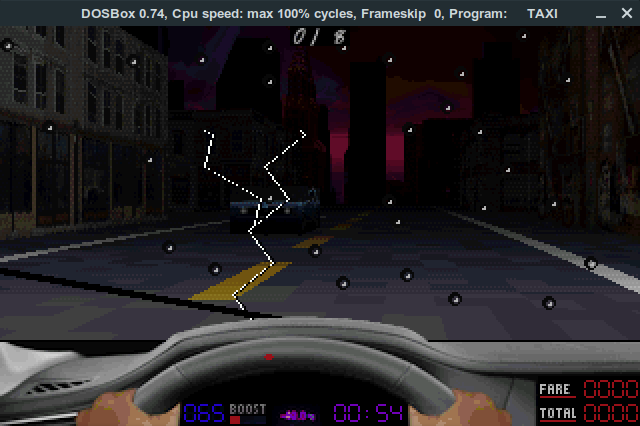 Hello! I am pleased to release this new development preview of my upcoming game, Death Taxi 3000. This is a mostly technical release, with general tweaks and optimizations, and adding previously missing features for the CAREER MODE - if you already own the full game, go check it out!
I have described these changes in depth on the previous devlog, which also touched on some of the improvements that were on the works for the DOS version. I managed to sneak in quite a few more in time for this release!
Even more memory optimizations mean that the game can now run with as little as 8MB of free RAM
Adlib sound code has been extensively reworked, fixing note-off issues (removed pops, clicks and lingering hums) and adding accurate frequency conversions to the Windows/Linux counterparts
Added early PC Speaker support as an alternative, if you have no sound hardware or just like having your ears bleed!
Several combined performance improvements, which include actual assembly code and specialized routines for the x87 floating-point processor, boost up the framerate by about 60% comparing to the previous release
As a result of the performance increase, the game is now playable in full detail! (320x200 instead of line-doubled 160x200)
VGA dashboard has been totally redone as well, now being a few pixels taller and featuring most of the previously missing HUD data
Also added to VGA mode the missing rain particle effects, working windshield wipers and visual damage representation
Last but not least, there is a new gamma adjustment setting which should help make the game appear less dark, specially on older laptop screens
As usual, the full changelog is in the downloads and instructions should be on the download page. Thanks once again for the support and stay tuned for the next updates, which will focus on adding content and fleshing out the gameplay further!
Files
taxi-0.3-x64.tar.xz
12 MB
Sep 29, 2018
taxi-0.3-dos-full.zip
755 kB
Sep 29, 2018
taxi-0.3-x64-full.tar.xz
12 MB
Sep 29, 2018
taxi-0.3-win32-full.zip
12 MB
Sep 29, 2018